One application that makes managing and organising your events easy, whilst also allowing you to drive engagement pre, during and post your event.
Time is in short supply so work smarter, not harder.
Event Manager is the quickest, easiest and simplest way to deliver all the event information your delegates will need. Here is some more in-depth information.
Our Packages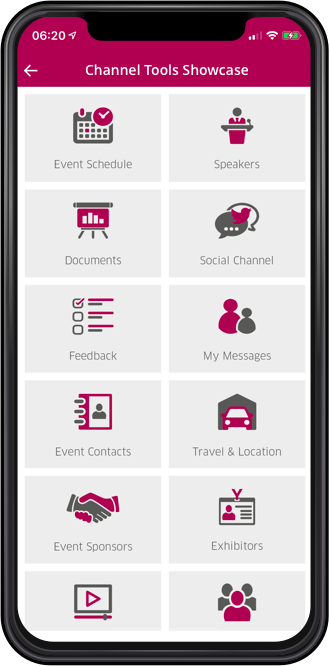 Personalised schedules
Does your event have different tracks? Our integrated, clash management schedule allows your delegates to easily select the tracks they would like to attend, creating a personalised event schedule. Delegates can now have a personalised experience, tailored to their areas of interest.
Powerful push notifications
This new marketing channel allows for instant engagement with your customers. Do you want to send meaningful reminders or updates about an event? Push notifications and our Message module means your customers are kept up to date.
Speaker profiles
Delegates can check out each speaker's profile beforehand or keep up to date with him or her on social media after your event. Providing this connection means lasting impact for your delegates. Have a reputable guest speaker? Hook your delegates in with a comprehensive bio and a compelling message.
Social
Social media is a great way of keeping your customers up to date of what is going on at your event. Have any event hashtags or accounts you would like your delegates to follow? Live social media feeds are an easy way to reach your customers, allowing them to see what people are saying and important posts about your event.
Share valuable documents
Event Manager's sharable documents means another way of building customer relationships. Prepare your delegates by sharing any helpful documents prior to your event or keep them involved after your event.
Instant feedback
Gone are the days of paper-based surveys and the lengthy process of data collection that follows. Enable your delegates to complete your surveys through their device there and then, or on the way home. With push notifications and messages you can even give them a nudge. Once feedback is submitted it loads into our CRM, instantly collating and creating all the dashboards you need.
Helpful interactive travel tips
Make it easier for your delegates to travel to your event. Going further than syncing with device maps, event manager allows you to add travel and location notes, allowing your delegates to plan ahead effectively. With push notifications and direct messages, you can even send travel updates of any major disruptions, minimising late arrivals.
We have got so much more to talk to you about…
We can't stop talking about this part of our platform, this is the starting point for many of our solutions. What we really want to do is talk to you and give you a demonstration. Contact us and we will arrange an initial call to agree a time and location that works for you so we can show you the full platform.
Contact us for more information